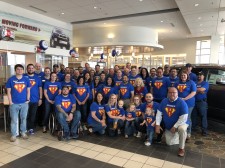 Street Toyota employees came together in honor of a two-year-old little boy battling leukemia. The employees and the company raised money for the family of the little boy who is the grandson of a salesman at the company.
AMARILLO, Texas, February 6, 2018 (Newswire.com) - Street Toyota and its employees have raised money in an effort to help two-year-old Reeve Melugin who was recently diagnosed with Acute Lymphoblastic Leukemia. Reeve is the grandson of Gregg Melugin, a Sales Professional at Street Toyota.
"When one of our employees is battling something like this or is going through a hard time, our company and our employees come together to help," General Manager, Mike Good said. "We are all one big family, so it's important to help each other out when we can."
Reeve is currently fighting like a champion and in the second stage of his chemotherapy treatment. Street Toyota purchased a Super Reeve shirt for each of their employees, and each employee donated money to wear the shirt along with jeans on Thursday, Feb. 1, 2018. The fundraiser was a success because all employees donated to the Melugin family.
Reeve's current stage of treatment has him in the hospital every other week for a few days at a time. This not only racks up the medical bills, but it also keeps Reeve away from his sisters and home. He is strong and continues to show just how strong he is, everyday.
Street Toyota employees were honored to have Reeve, his parents and sisters join them on Thursday for some pictures and to receive their donations from the Street Toyota staff.
If you would like to purchase a Super Reeve shirt to show your support, you can do so at the Street Toyota in Amarillo or by downloading the order form online at www.superreeve.com.
Donations can be made at any Amarillo National Bank branch, tell them it is for Jordan Melugin and the Reeve Medical Account, or at www.gofundme.com/superreeve.
For more information about Street Toyota, visit the dealership at 4500 South Soncy Road in Amarillo, Texas. To chat with a live representative, visit www.streettoyota.com or call 806-355-9846 to speak with someone directly.
Street Auto Group (Street Toyota & Street Volkswagen) both of Amarillo have been valuable corporate citizens in the Panhandle area. They provide support to area nonprofit organizations such as Boy Scouts of America, United Way of Amarillo & Canyon, The Boys & Girls Clubs of Amarillo & Canyon, Young Life of Amarillo, High Plains Food Bank, Eveline Rivers Christmas Project, Snack Pak 4 Kids, Amarillo Symphony, Amarillo Museum of Art, Discovery Center, CACHA (Hispanic Chamber of Commerce), West Texas A&M University and many other organizations.
Source: Street Toyota
Share: