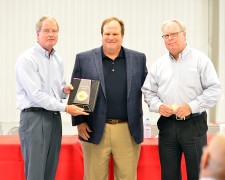 Street Toyota employees, managers and owner receive their tenth Toyota President's Award from Gulf State Toyota. The company held a special luncheon for all employees.
Amarillo, Texas, September 15, 2016 (Newswire.com) - Street Toyota of Amarillo, Texas received the Toyota President's Award for the tenth time out of the last 11 years. Employees celebrated their triumph with a special lunch on Wednesday, September 14, 2016 at the dealership.
"Our employees work so hard all year and this award is proof of it," Mike Good, Street Toyota General Manager said. "Receiving the Toyota President's Award is a big honor because it recognizes our dealership and our employees for the work they all do."
The Toyota President's Award is one of the highest honors a Toyota dealership can receive. For a dealership to receive this award, the dealership must first qualify for the President's Award by excelling in different categories including Customer Sales Satisfaction and Customer Service Satisfaction. Street Toyota exceeded all of the requirements for the award this year.
In attendance of the awards ceremony were Ryan Coffman, Gulf States Toyota District Trainer, Mark Erwin, Gulf States Toyota Area General Manager, Douglas Kline, Gulf States Toyota District Manager, and John Orange, Gulf States Toyota District Parts and Service Manager.
"All the employees are thrilled and excited about our success," Laverne Davis, Customer Relations Manager said. "Our employees feel like they are valued and it creates comradery amongst us."
In addition to the lunch for all Street Toyota employees, the dealership will also be receiving a name badge recognition at all dealer events, national recognition in an Automotive News advertisement and a year plaque to add to their President's Award Tiffany crystal trophy located in the lobby of the dealership.
For more information about Street Toyota, visit the dealership at 4500 South Soncy Road in Amarillo, Texas. To chat with a live representative, visit www.streettoyota.com or call 806-355-9846 to speak with someone directly.
Street Toyota of Amarillo has been a valuable corporate citizen in the Panhandle area. They provide support to area nonprofit organizations such as Boy Scouts of America, United Way of Amarillo & Canyon, The Boys & Girls Clubs of Amarillo & Canyon, Young Life of Amarillo, High Plains Food Bank, Eveline Rivers Christmas Project, Snack Pak 4 Kids, Amarillo Symphony, Amarillo Museum of Art, Discovery Center, CACHA (Hispanic Chamber of Commerce), West Texas A&M University and many other organizations.
Source: Street Toyota
Share: