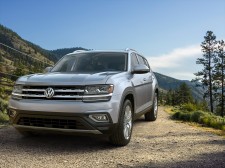 Street Volkswagen of Amarillo is hosting a Volkswagen Atlas Launch Party on Wednesday, May 24, 2017, from 5:00 p.m. to 9:00 p.m. The company invites the community to visit the dealership and test-drive the all-new Volkswagen model.
Amarillo, Texas, May 11, 2017 (Newswire.com) - Street Volkswagen of Amarillo is hosting a launch party for the new 2018 Volkswagen Atlas. The company is thrilled to introduce their boldest vehicle ever — and the community is invited to celebrate.
"The wait is finally over," John Luciano, General Manager at Street Volkswagen, said. "After years and years of waiting for the release of the 2018 Volkswagen Atlas, it's finally here, and we are thrilled to be hosting a launch party and premiering it to the public."
The event is free and open to the public and includes dinner for registered guests, door prizes and test-drives of the new 2018 Volkswagen Atlas. Interested guests are encouraged to call Sindy Monasmith, Customer Care Manager at Street Volkswagen, beforehand to pre-register for the party at 806-350-8999.
The all-new 2018 Volkswagen Atlas comes standard with seven seats and a third row. The Volkswagen Atlas comes with hands-free Easy Open power tailgate, panoramic sunroof, heated and ventilated front seats, easy 3rd row access, 96.8 cubic feet of cargo space, and room for three child seats in the 2nd row.
"Those are just a few of the features the Volkswagen Atlas comes with," Luciano said. "We are excited to be showcasing the Atlas and show people what this new model comes with. Like Volkswagen's new slogan says, 'Life's as big as you make it.'"
For more information about Street Volkswagen of Amarillo, visit the dealership at 8707 Pilgrim Drive in Amarillo, Texas. To chat with a live representative, visit www.streetvw.com or call the dealership at 806-350-8999 to speak with someone directly.
Street Volkswagen has been a valuable corporate citizen in the Texas Panhandle. They provide support to area nonprofit organizations such as Boy Scouts of America, United Way, The Mavericks Boys and Girls Club, Young Life, High Plains Food Bank, Eveline Rivers Christmas Project, Snack Pak 4 Kids, Amarillo Symphony, Amarillo Museum of Art, Discovery Center, CACHA (Hispanic Chamber of Commerce), West Texas A&M University and many other organizations.
Source: Street Volkswagen of Amarillo
Share: