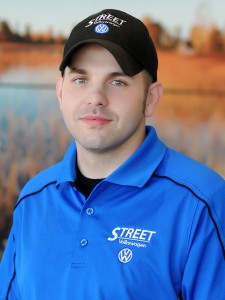 Bradley Paschal, e-Commerce Director at Street Volkswagen of Amarillo has advanced to the Retail Qualification Championship.
Amarillo, Texas, October 10, 2016 (Newswire.com) - Bradley Paschal from Street Volkswagen of Amarillo will represent the company at the National Retail Qualification Championship in Florida this November.
The long process to Nationals began in May when an online test opened for participants. Then in June part two of the test opened. Top competitors from online testing rounds were invited to complete in State 3 in August. Those individuals who passed were invited to the RQC National Championship this November in South Florida.
"I am very honored and humbled to represent Street Volkswagen at the Volkswagen RQC finals in November," Paschal said.
Paschal is one of 12 contestants who has advanced in his category. He will be participating in the CPO division of the contest. There are four divisions of the contest including CPO Sales, Parts, Service and Technicians.
While in Florida at the competition Paschal will compete in a competition that will test all his skills when it comes to Volkswagen's World Auto CPO Program. He will take part during three days of testing in Fort Lauderdale, Florida.
"We are extremely proud of Brad," John Luciano, General Manager said. "He has done a great job."
CPO Sales Consultants must be certified by December 31, 2015 or achieve certification for this year prior to July 31, 2016 to qualify.
For more information about Street Volkswagen of Amarillo, visit the dealership at 8707 Pilgrim Drive in Amarillo, Texas. To chat with a live representative, visit www.streetvw.com or call the dealership at 806-350-8999 to speak with someone directly.
Street Volkswagen has been a valuable corporate citizen in the Panhandle area. They provide support to area nonprofit organizations such as Boy Scouts of America, United Way, The Mavericks Boys and Girls Club, Young Life, High Plains Food Bank, Eveline Rivers Christmas Project, Snack Pak 4 Kids, Amarillo Symphony, Amarillo Museum of Art, Discovery Center, CACHA (Hispanic Chamber of Commerce), West Texas A&M University and many other organizations.
Source: Street Volkswagen of Amarillo
Share: