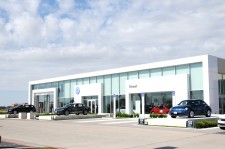 Street Volkswagen of Amarillo will hold a special ceremony on Thursday, July 20, 2017 in honor of their Gold Pin Award recognition. The company is one of the only dealers in the region to receive this prestigious award.
Amarillo, Texas, July 19, 2017 (Newswire.com) - Street Volkswagen of Amarillo has been honored with the prestigious Gold Pin Award from Volkswagen Group of America, Inc. Street Volkswagen of Amarillo is one of the only dealers in the South Central Region to be honored this year. Each year about 10-13 of the 655 dealers in the nation are recognized with this elite award.
"This is a true honor and testament to how we do business here in Amarillo," John Luciano, General Manager at Street Volkswagen of Amarillo said. "We put our customers and community first and this is one of the many reasons we stand out in the automotive industry."
A Gold Pin award is based on how a dealer represents the Volkswagen brand to the customers and the experience the customer receives while they are at the dealership. Gold Pin dealers are in an elite club of dealers who have embodied the whole spirit of how to treat the customer. There are over 650 Volkswagen dealers in the nation and Street Volkswagen of Amarillo is 1 of 13 in the nation to receive the Gold Pin in 2017.
In order to be eligible for the award a dealer must have the following criteria: Rank in the top 20 in the country for Customer Satisfaction, rank in the top 20 for Target Achievement, have a 100% of standard fulfillment, display strong brand loyalty and hold a strong position and be heavily involved in the community.
The company will hold a celebratory event Thursday, July 20, 2017, at 11:30 a.m. at the dealership for all employees. Attending the event is Daron Bush, Sales Operations Manager at Volkswagen Group of America, Inc.
For more information about Street Volkswagen of Amarillo, visit the dealership at 5000 South Soncy in Amarillo, Texas. To chat with a live representative, visit www.streetvw.com or call the dealership at 806-350-8999 to speak with someone directly.
Street Volkswagen of Amarillo has been a valuable corporate citizen in the Texas Panhandle. The company provides support to area nonprofit organizations such as Boy Scouts of America, United Way, The Mavericks Boys and Girls Club, Young Life, High Plains Food Bank, Eveline Rivers Christmas Project, Snack Pak 4 Kids, Amarillo Symphony, Amarillo Museum of Art, Discovery Center, CACHA (Hispanic Chamber of Commerce), West Texas A&M University and many other organizations.
Source: Street Volkswagen of Amarillo
Share: