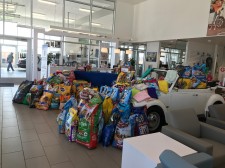 Street Volkswagen of Amarillo is holding a Pet Food Drive this week in honor of the pets affected and relocated due to Hurricane Harvey. The company will deliver the items to SPCA of Texas in Dallas this Friday.
AMARILLO, Texas, August 30, 2017 (Newswire.com) - Street Volkswagen of Amarillo is holding a pet food drive this week in honor of the animals that have been relocated to Dallas from the Gulf of Mexico after Hurricane Harvey. The company is collecting food and money to donate to the SPCA of Texas in Dallas later this week.
"We knew we needed to do something right away," General Manager, John Luciano said. "Our company is always quick to help after major disasters and we wanted to reach out to a group that some people might not think of immediately: the animals."
Street Volkswagen of Amarillo will collect items through Friday afternoon, and employees will drive to Dallas on Saturday and deliver the food to the Jan Rees-Jones Animal Care Center and Myron K. Martin Spay/Neuter & Wellness Clinic in Dallas, Texas.
"Many businesses have reached out to us and have asked how they can help," Advertising and PR Manager, David Meraz said. "As of now, we have over 4,500 pounds of food at Street Volkswagen alone. This doesn't include all the food that businesses in Amarillo are collecting."
Businesses who have teamed up with Street Volkswagen include Texas Tech University Health Sciences Center at Amarillo, Classy Canine, Street Toyota, KGNC FM, The Eagle FM, DFB Insurance Group, Animal Medical Center of Amarillo, Amarillo's Pet Smart, Yellow City V Dubs Car Club, and Amarillo Tractor Supply.
Amarillo's Pet Smart is accepting donations on behalf of Street Volkswagen until Friday at 2 p.m. The store already has over 1,500 cans of dog and cat food and over 30 bags of food. Amarillo's Pet Smart is located at 2800 S. Soncy Road. The store opens at 9 a.m. and closes at 9 p.m.
"We want to thank everyone who has supported this cause already," Finance Director, Jeanine Clement said. "It's heartwarming when a community comes together in support of a cause that is 800 miles always. This is the reason we are Street Strong and Texas Strong."
For more information on how you can help and donate, call Street Volkswagen of Amarillo at 806-350-8999 or visit 8707 Pilgrim Drive in Amarillo, Texas to drop off your donation.
Street Volkswagen has been a valuable corporate citizen in the Texas Panhandle. They provide support to area nonprofit organizations such as Texas Panhandle Pet Savers, Boy Scouts of America, United Way, The Mavericks Boys and Girls Club, Young Life, High Plains Food Bank, Eveline Rivers Christmas Project, Snack Pak 4 Kids, Amarillo Symphony, Amarillo Museum of Art, Discovery Center, CACHA (Hispanic Chamber of Commerce), West Texas A&M University, and many other organizations.
Source: Street Volkswagen of Amarillo
Share: