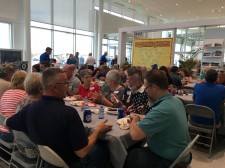 Street Volkswagen of Amarillo employees invited customers who own a TDI vehicle to an informational dinner on Monday, September 12, 2016. The team answered questions and concerns from customers.
Amarillo, Texas, September 14, 2016 (Newswire.com) - Street Volkswagen of Amarillo held a private dinner on Monday, September 12, 2016 inviting customers, who own a TDI vehicle. Employees of Street Volkswagen, along with members of Volkswagen of America answered questions and concerns regarding their TDI vehicles. 
"We had a great turnout Monday night," John Luciano, General Manager said. "We had over 200 customers in our showroom, who patiently and attentively listened to what we had to say."
Street Volkswagen invited their guests to a special VIP dinner, which included a catered meal, dessert and cocktails.
"Our dinner was a success because even after the event was over, many of our customers stayed behind for a one on one meeting and many others had questions on how to register," Luciano said. "During the dinner, we found out that many of our customers, who had received a packet in the mail, thought that they were automatically registered. After explaining the process to them, we now have had several of them come back to our dealership in the following days since the dinner."
Monday morning all Street Volkswagen of Amarillo employees went through a rigorous course on how to handle questions from customers about the TDI vehicles. The employees also went through training on how to expedite the process and make it a lot easier for customers to finalize their own process.
Street Volkswagen of Amarillo has set up a TDI Information Desk at the front of the store to make the Customer Experience as easy as possible when they start coming in for their appointments. A Volkswagen TDI Ambassador will be at the desk during regular business hours, which is why the company has trained multiple employees for this task.
For more information about Street Volkswagen of Amarillo, visit the dealership at 5000 South Soncy in Amarillo, Texas. To chat with a live representative, visit www.streetvw.com or call 806-350-8999 to speak with someone directly.
Street Volkswagen of Amarillo has been valuable corporate citizen in the Panhandle area. They provide support to area nonprofit organizations such as Boy Scouts of America, United Way of Amarillo & Canyon, The Boys & Girls Clubs of Amarillo & Canyon, Young Life of Amarillo, High Plains Food Bank, Eveline Rivers Christmas Project, Snack Pak 4 Kids, Amarillo Symphony, Amarillo Museum of Art, Discovery Center, CACHA (Hispanic Chamber of Commerce), West Texas A&M University and many other organizations.
Source: Street Volkswagen of Amarillo
Share: