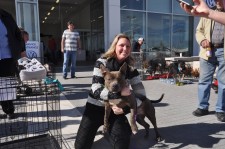 Street Volkswagen of Amarillo embraces community challenges up close and personally
Amarillo, Texas, October 3, 2016 (Newswire.com) - Street Volkswagen of Amarillo understands the impact that their dealership has in their community, their town and in the World. "If your dealership is a positive force in any of these areas, that's called social responsibility," says John Luciano, Managing Partner.  "West Texas has experienced slower growth in some areas as a result of an overall downturn in the oil industry.  We have an obligation to help where we can," says Luciano.
Street Volkswagen serves a market of over 200,000 people around Amarillo, Texas; the 14th-most populous city in Texas, and the largest city in the West Texas Panhandle.
The Challenge of Need
Luciano explains that the amount of requests for assistance that businesses receive from non-profits and charities can be overwhelming. "Street Volkswagen has always tried to provide as much financial support to local non-profits and charities here in our community as we can," says Luciano.  "We understand that financial support is the lifeblood of a non-profit's existence, however, several years ago we realized that we that could do much more."
"We want to make life better. There's lots of needs in our community, as there is in any community; all kinds of social issues that need to be addressed.  Often, we can help," says Joe Street, General Partner of Street Volkswagen.
Street's Outreach Strategy
Street Auto Group's Marketing Team created a Community Impact Calendar in order to concentrate their charity efforts on one non-profit organization each month. Each month, their marketing team creates a systematic action plan for charity organizations that may include financial contributions as well as utilizing their dealership's goodwill within the community to promote a charity through:
Social Media Awareness
Informative and fun Twitter, Instagram, Google Plus, etc., posts
Podcast interviews highlighting the organization's community efforts
Employee volunteerism
The Community Effect
"Demonstrating even just a little bit of charity each and every day brings us closer to creating the world that we want to live in," says Luciano.
"Businesses must have a sound business plan and budget, but also they should have a strong sense of corporate social responsibility," says Flo Lopez, Internet Sales Manager at Street Volkswagen.  "When dealerships demonstrate that they're dedicated to improving their community they're more likely to attract and retain valuable, hardworking, and engaged employees."
Luciano explains that assisting nonprofit organizations and encouraging their employees to volunteer their time demonstrates that they don't just care about profits. Instead, they show that they have a sincere interest in the local and global community.
Street Volkswagen's corporate culture encourages their employees to contribute their time and money to worthy causes so that they can develop both professionally and personally.  Street's philosophy promotes helping those in need and having employees learn how to work better together in order to accomplish worthy projects.  Luciano explains that this activism causes employees experience a sense of pride when they realize that their dealership cares about the community and encourages them to be passionate about admirable causes.
"We make a living by what we get. We make a life by what we give." ― Winston S. Churchill
"Often we feel that our sense of well-being, freedom, and personal accomplishments are the results of our own efforts," says Luciano. The reality is; without the essentials of food, clean water, shelter, basic healthcare, and political stability, true well-being cannot exist," says Luciano.  "If your business is successful, be grateful to the community that supports you. If your business is grateful, make time to give back."
"Never worry about numbers. Help one person at a time and always start with the person nearest you." ― Mother Teresa
Luciano encourages dealerships to create their own Community Impact Calendar Committee and offers the following points to get started:
Dealership Benefits
·        Improved Public Image
·        Additional Media Coverage
·        Improved Employee Engagement
Nonprofit Benefits
·        Funding
·        Additional Volunteer Participation
·        Forging Corporate Partnerships
Employee Benefits
·        Positive Workplace Environment
·        Increase in Creativity
·        Encourages Professional & Personal Growth
·        Promotes Individual Philanthropy
Select Your Community Impact Committee
o   Dealer Principal
o   General Manager
o   General Sales Manager
o   Customer Relations Manager
o   Business Development Manager
o   Marketing Manager
Create a Community Impact Calendar Email Address
o   Direct all Non-Profit appeals to submit a Sponsorship Request
o   Requests are reviewed by the Committee and categorized by
- Funds
- Personnel Required
- Equipment Needed
Create a Community Impact Calendar Google Doc
o   All Committee Members have access to the Calendar
o   Calendar includes
- Event
- Date
- Time
- Participants
- Equipment (Tents, Tables, Give-Away Items, Water, etc.)
- Display Vehicles (if applicable)
o   Calendar is printed out and attached to weekly payroll checks
Create a Weekly Committee Meeting Time
o   30-minute meeting
o   Review new Sponsorship Requests
o   Add new Sponsors to the Google Doc Event Calendar
o   Select main volunteer participants
o   Determine what equipment may be required
·        Promoting the Charity of the Month
o   Marketing Manager Coordinates
- Social Media coordination with the Dealership's and Non-Profit's
·        Facebook
·        Twitter
·        Etc.
o   Coordinates Dealership's Video Podcast promos
If you would like the Street Auto Group to consider a sponsorship partnership with your non-profit 501 (c) 3 organization, please email your formal request to marketing@streetvw.com. Please tell us about your organization's mission statement and how we can help!
Listen to the Motormouth Podcast on your favorite podcast app:
·       iTunes
·       Stitcher
·       Tunein
Source: Street Volkswagen
Share: